Who doesn't love a fun puzzle?! Remember during childhood when you'd take the time to piece together parts of a picture. It is such a satisfying feeling to find the place of all those puzzle pieces!
Puzzles are excellent for cognitive skills, problem solving, and fine motor skills. This is just part of the reason why they are perfect to incorporate into lessons. For students learning English as a second language, it is important to focus on holistic practices. Just like with any subjects, students are more engaged when their brain is focused. Learning another language tires the brain out quickly, so it is important to guide its focus during classes.
A great way to give students a 'brain break' and refocus their energy during ESL classes is with puzzles!
A five minute interval between key learning goals can help to redirect the energy in the right way. Puzzles get their little fingers moving, their brains moving in a different way, and their eyes looking at something other words!


With so many benefits of puzzles for 'brain breaks', let's talk about how to make them. You don't need to spend dollars at the store investing in complex puzzles that are inevitably going to end up with missing pieces. You can make your own at home!
Remember, the purpose of these puzzles is to refocus students or use as a quick warm up. They don't need to be super fancy or too complicated. They are intended to be a quick, fun exercise to keep students on track with their learning goals.


This means that the perfect chance to recycle and repurpose arises! All you need is cardboard (of any variety), some coloured pencils or markers, and some scissors. Oh, don't forget some creative energy! You will need to draw to make these. Don't worry, Google images or Pinterest have plenty of ideas to draw from!
So, for these DIY puzzles, I used some toothbrush boxes. They provide a flat, sturdy cardboard surface. Perfect for drawing on. My favourite images to draw involve cartoon style scenes. I chose a tree, a rainbow, and a car. They are happy and inviting for kids.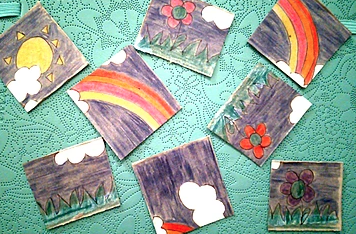 After drawing and colouring the scenes, I cut the cardboard into 8 pieces. Simple and easy.
This activity is best used for early learners. Early learners have so much energy and it can be hard to focus solely on learning another language for too long at a time. This type of activity can reshuffle their focus and help release some pent up physical energy. Anything to get little fingers moving is useful during ESL! It is also good to break up the constant flow of words and letters during English classes with happy pictures instead!
To use these as a 'brain break' or a warm up or an activity to finish off a class, I recommend laying them out in the complete picture first. This way the students can see the image and it gives them a direction. Then, shuffle up the pieces and let the students solve them.
Such a fun, easy, and eco-friendly way to brighten up an early learners' ESL lesson. Have fun creating your own DIY puzzle.
Keep it eco. Keep it educational!