Something that many people learning English as a second language (and native speakers for that matter) struggle with is prepositions. These are as confusing as they are common!
Before we dive into prepositions and put them into action, let's just go over what they are exactly.


Prepositions are part of the English language which come before NOUNS. They are what give the noun a purpose or a position. Prepositions are normally short, little words, but they come with a big impact on a sentence!


For instance, a preposition can tell us where something is. Or it can tell us what something is close to. We use them more than we realise, and we mix them up more than we can help!
Let's go over some common prepositions:
In
On
Under
Near
Next to
Between
Inside
Outside
In front of
Behind
You use these a lot, right? Well, let's make sure our ESL learners are using them properly!
Students learning English as a second language can benefit greatly from exposure to prepositions. They are words that can be introduced at any age and any level. This is also because many prepositions are also sight words (words that need to be memorised).
There are endless ways to make prepositions fun and exciting for ESL students. They can be incorporated into a whole range of activities. The great thing with prepositions is that they don't get boring because they aren't repetitive. You can use them here, there, and everywhere in ESL lessons!
This article will run you through one example of a prepositions exercise. This lesson is designed for students aged between 7-11 years old.
The first element of this lesson are preposition flashcards. These ones that I made feature a cute little dog. This good doggo appears in different places throughout the flashcard series.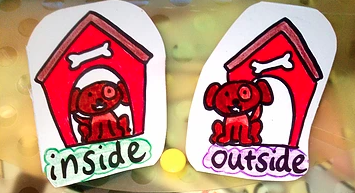 As a warm up, ask you student/s 'where is the dog'.
You can guide them through the answer by saying 'the dog' (point to the dog) is .... (insert preposition here) the .... (object also featured on the flashcard).
Example: the dog is in the box.
After the good doggo has taken you and your student/s on a preposition adventure, turn you attention to this worksheet.
Here is featured a town map. This cute little town has many places. Talk to your students about the place names. This is useful vocabulary. You can extend them, depending on the level, by asking 'what do you do at the park?' or 'where is your favourite place to go?'.
Once the excitement of the map has passed and the inevitable colouring in (do you students start by colouring the road? I've noticed that is a favourite place where students begin to colour! Why, who knows?!) direct you little learners to look at the sentences.
There is a word missing from each sentence. Since this worksheet is designed for beginning learners, I only used three prepositions. It is up to you and your students' level as to how many you include.
Before getting them to write, take them back to the good doggo's adventure, focusing just on the three prepositions.
For the first sentence, I visually show them on the map the two locations: the post office and the cafe. I hold up the 'next to' flashcard and show how the dog is next to the flower. Then I compare this on the map to show how the post office is next to the cafe. The more visual reinforcements, the better.




Make sure you follow your students' reading and ensure they pay attention to all the place names mentioned in the sentence. Otherwise they can get confused by which preposition is needed. It can help to emphasis that between is used when there are three things mentioned, such as the dog and the two trees.
After the writing is complete (and hopefully the correct preposition has been used), get your students to read out the sentence. This is a good chance to get the verbal aspect of the language out there.
As a finish up activity (if your students are finished colouring the all-important map, of course!), why not play a preposition game.



Depending what resources are around (pencils can be used when in doubt), hold up a preposition and get your students to arrange the objects (whatever is at your disposal) into the preposition order.
For instance, hold up the preposition 'on'. Get the students to place one pencil ON another. Or use the preposition 'behind' and instruct them to hold their pen BEHIND a pencil. You get the idea!
So there you have it - one handy example of how prepositions can enhance an ESL lesson. Trust me, there are so many others out there! Never forget about prepositions when it comes to lesson planning.
Don't forget, you can easily make your own preposition flashcards. Whether you want to draw a good doggo like I did, or choose another animal or object, it is super easy. There are loads of flashcard examples online to get some inspiration.



I made my cards on the back of a headphones box. As an online English teacher, I had to buy new headphones. The box was such sturdy cardboard and much better redirected as an educational resource than heading off to an overcrowded recycling centre.
Now, my upcycled preposition flashcards have been used in countless online English lessons as well as manhandled by my little ESL learners at the language centre where I teach in Marrakech, Morocco. And they are still going strong. I love the power of upcycling!
I hope you, too, will get creative with your lessons and resources.
Keep it eco. Keep it educational!